Tawallammat Latin Keyboard Help
Start Using Tawallammat Latin
This keyboard covers all posible characters needed to type Tamajaq language for Latin orthography. Additional characters have been added to avoid having to switch keyboard to French or English while typing.
Keyboard Layout
Desktop Keyboard Layout
Mobile/Tablet Keyboard Layout
Long Press
Press and hold on the key with a little dot on the top right to reveal more keys.
Press and hold on key ., you should see: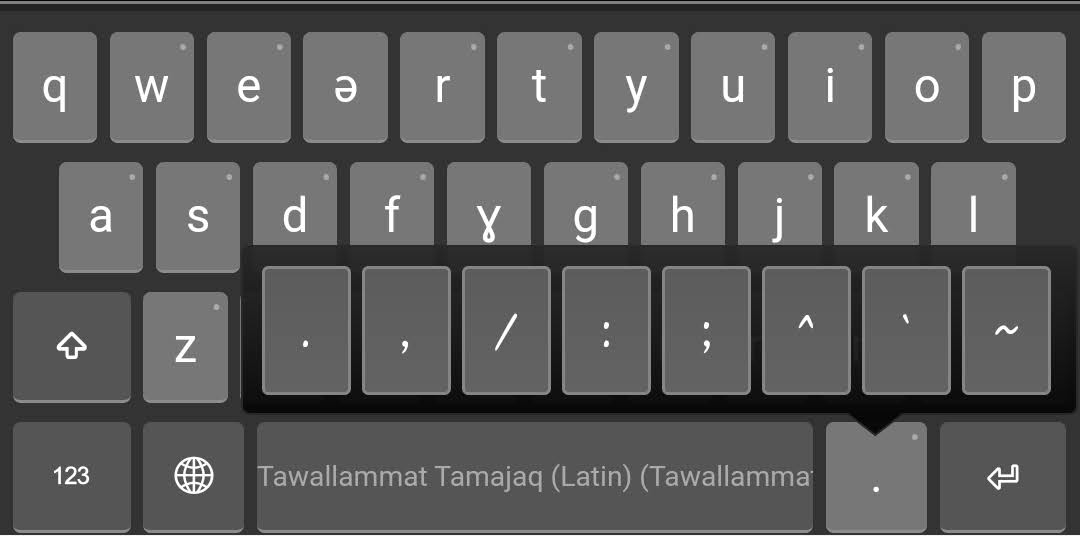 Press and hold on key a, you should see: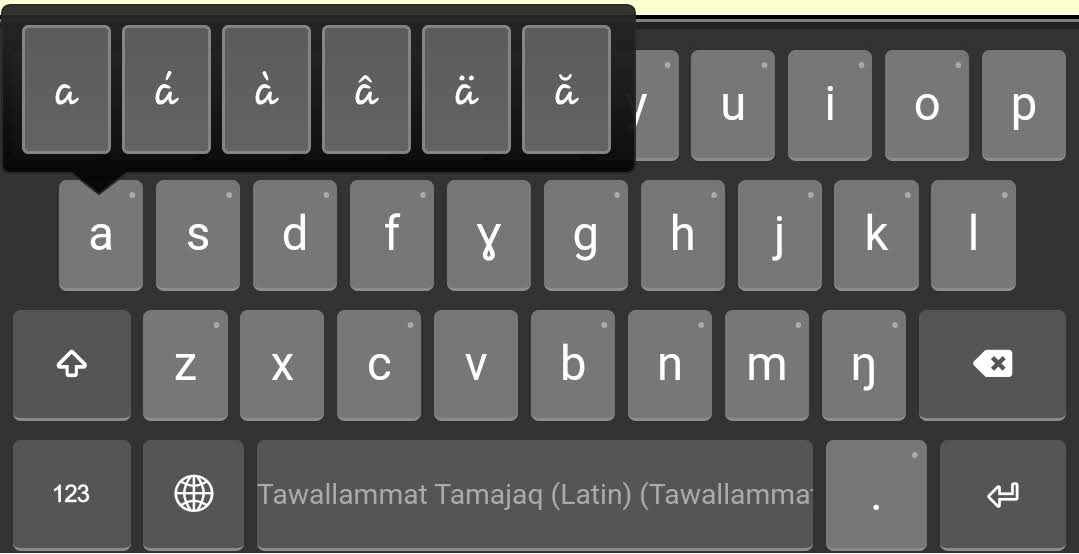 Special Keystrokes
Keystrokes
Outputs
, + C
Ç
, + c
ç
, + G
Ɣ
, + g
ɣ
, + Z
Ž
, + z
ž
. + ]
(On mobile: press and hold on key s and roll over to ṣ̌)
ṣ̌
. + }
(On mobile: press and hold on key S and roll over to Ṣ̌)
Ṣ̌
. + +
(On mobile: press and hold on key Ŋ and roll over to Ŋ̇)
Ŋ̇
. + =
(On mobile: press and hold on key ŋ and roll over to ŋ̇)
ŋ̇
. + B
Ḅ
. + b
ḅ
. + D
Ḍ
. + d
ḍ
. + F
F̣
. + f
f̣
. + g
g̣
. + G
G̣
. + H
Ḥ
. + h
ḥ
. + j
j̣
. + J
J̣
. + K
Ḳ
. + k
ḳ
. + L
Ḷ
. + l
ḷ
. + M
Ṃ
. + m
ṃ
. + N
Ṇ
. + n
ṇ
. + R
Ṛ
. + r
ṛ
. + S
Ṣ
. + s
ṣ
. + T
Ṭ
. + t
ṭ
. + W
Ẉ
. + w
ẉ
. + Y
Ỵ
. + y
ỵ
. + Z
Ẓ
. + z
ẓ
. + , + Z
Ẓ̌
. + , + z
ẓ̌
/ + A
Á
/ + a
á
/ + E
É
/ + e
é
/ + I
Í
/ + i
í
/ + O
Ó
/ + o
ó
/ + U
Ú
/ + u
ú
: + A
Ä
: + a
ä
: + E
Ë
: + e
ë
: + I
Ï
: + i
ï
: + O
Ö
: + o
ö
: + U
Ü
: + u
ü
^ + A
Â
^ + a
â
^ + E
Ê
^ + e
ê
^ + I
Î
^ + i
î
^ + O
Ô
^ + o
ô
^ + U
Û
^ + u
û
` + A
À
` + a
à
` + E
È
` + e
è
` + I
Ì
` + i
ì
` + O
Ò
` + o
ò
` + U
Ù
` + u
ù
~ + A
Ă
~ + a
ă
~ + E
Ĕ
~ + e
ĕ
~ + I
Ĭ
~ + i
ĭ
~ + O
Ŏ
~ + o
ŏ
~ + U
Ŭ
~ + u
ŭ
, + >
' (right single quotation mark)
, + <
' (left single quotation mark)
' (left single quotation mark) + <
"
' (right single quotation mark) + >
"
‹ + <
(press ‹ twice)
«
› + >
(press › twice)
»
; + [
[
; + ]
]
; + {
{
; + }
}
; + +
+
; + =
=
© 2020 Christian Grandouiller
All Documentation Versions