Keyman for iPhone and iPad: Switching between Keyboards
To switch keyboards, follow these steps:

Step 1)
With the keyboard visible, touch the globe key:



This will bring up a list of all currently installed languages (the default is English USA). If you have already downloaded additional languages, they will appear here. Simply select them and the keyboard will re-appear with the new language.

If you haven't installed any languages as yet, touch the + button in the top right corner of your screen.

Step 2)
A list of all available languages will appear. Scroll through this list until you find the language you want to install. Some languages may have multiple keyboards - for example we have 10 different Tamil keyboards.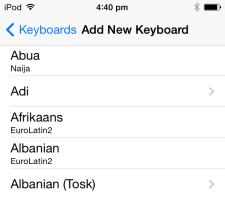 Select the language and keyboard you want to install - a popup will ask for confirmation, hit the Download button.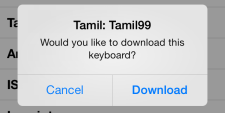 Step 3)
Once the download is complete, the new keyboard will be selected. Touch the Done button on the top right corner of your screen and the new keyboard will appear.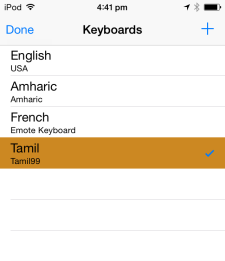 Help Index